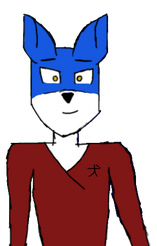 Aaron is a Timber Wolf native to the forest of the Vortex. He is the founder and leader of the Quads of Pain.
Weapons
Aaron primarily uses his two katanas. But he possesses a variety of other types of weapons, also. These include:
Morning Star
Throwing Stars
Nunchucks
History
Aaron was born on the Aeta Japanese island of Vortex. He originally was a grey wolf and belonged to the 'Canidae Pack'. The Canidae pack was led by his father, who is also one of the Aeta's GAR soldiers (Or was, until he retired when Aaron joined). 
Aaron lived his life like a regular wolf until the age of 14 (canid years), when a hunter invaded an event that the Canidae Pack was having. His dad scared them off, and that was when Aaron was enrolled in the Aeta. He was quadized, and had his fur dyed blue.
After that, Aaron found his team and called them the Quads of Pain.
Appearances
Aaron has appeared in all Quads of Pain stories so far.
Trivia
Ad blocker interference detected!
Wikia is a free-to-use site that makes money from advertising. We have a modified experience for viewers using ad blockers

Wikia is not accessible if you've made further modifications. Remove the custom ad blocker rule(s) and the page will load as expected.